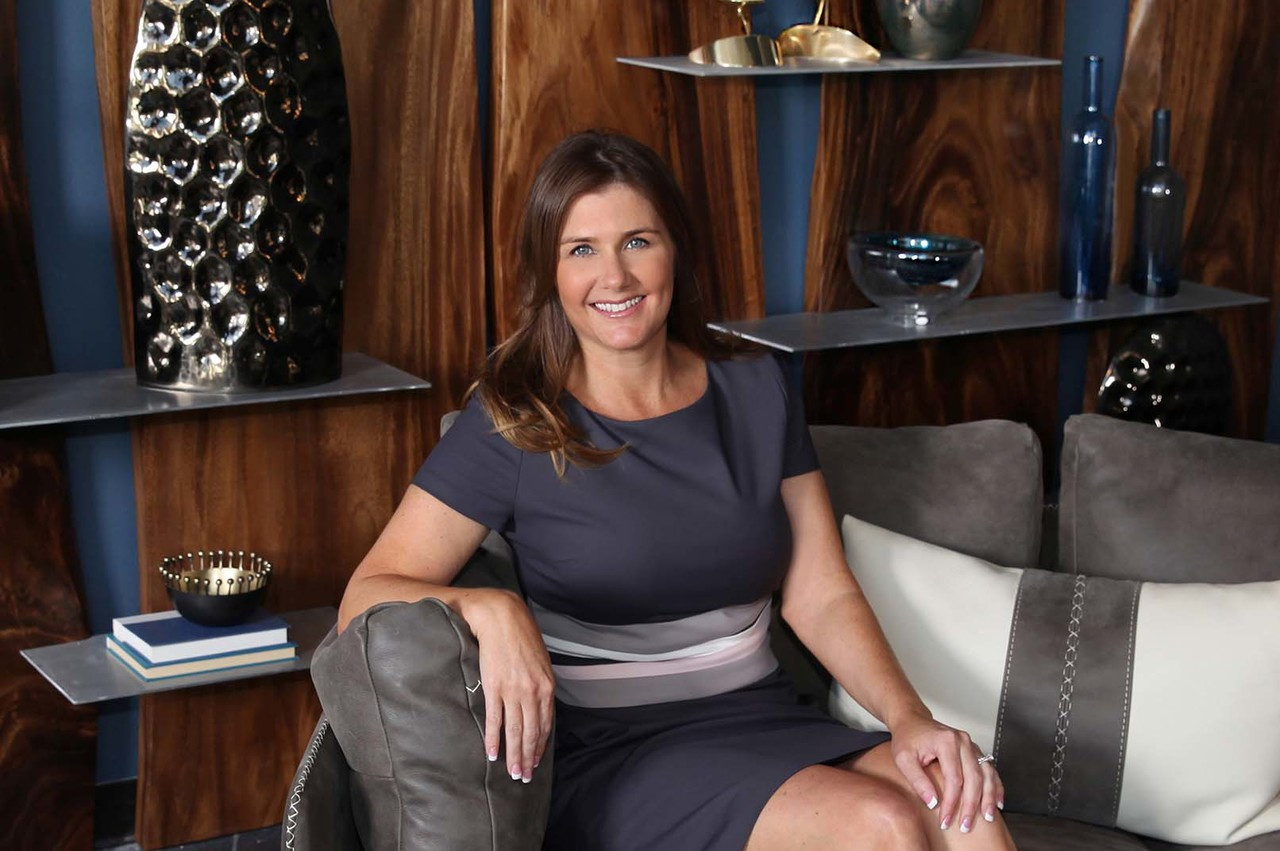 Sarah Buehlman
Design Consultant
Days off: Monday & Tuesday
sbuehlman@cantoni.com
Sarah's aesthetic leans timeless yet contemporary with an abundance of livability. "I love to mix textiles, surfaces and lines to create strong statements," she says. "I focus on rhythm, beauty and detail." It's a style echoed in her "playful, personable" attitude, instantly apparent to clients — she's never met a stranger. "I absolutely love meeting and working with new people every day," she says. "My philosophy is to put clients' needs first and great design follows suit."
Sarah's spirited approach can be ascribed to a lifelong passion for design — she worked in her first showroom at age 19. Since joining Cantoni in 2008, she has perfected her knack for spatial planning and color theory — her education includes a certificate program in each from the Designers Institute in Newport Beach — and has an expansive portfolio of residences. In every project, she thoughtfully selects each element, taking full advantage of our customizable collections and extensive portfolio of furniture, accessories and art.
"With our ability to design spaces from the ground up, our wealth of resources is second to none," she says. "Whether I'm remodeling a kitchen, designing a commercial space or reimagining a client's favorite room, I learn something new every day — it's exciting." Her detail-oriented approach extends to her own garden, with which she has a minor infatuation. "I'm obsessed with my roses," she says.
Get to know Sarah:
Sarah
What's your favorite food?
Mexican.
Who are your design icons?
Philippe Starck, Candice Olson, Samuel Botero.
Which design era suits you most?
Bauhaus
Quote that you live by:
"Try to be a rainbow in someone's cloud." – Maya Angelou
What's your favorite travel destination?
Costa Rica.
Where do you find inspiration?
From nature — especially the ocean.
What's your top cocktail?
Cape Cod.
What's one way a client can instantly change a room?
De-clutter.
Cantoni Irvine
8650 Research Drive
Irvine, CA 92618
949.585.9191 x842
Monday

10AM-7PM

Tuesday

10AM-7PM

Wednesday

10AM-7PM

Thursday

10AM-7PM

Friday

10AM-7PM

Saturday

10AM-6PM

Sunday

1PM-5PM
LEARN MORE
My husband and I have been working with Sarah for 12 years. Our home is starting to look like a Cantonis showroom! Sarah is delightful to work with and has such nice taste and is great about respecting our budget and blending our new purchases with what we already had. She responds promptly and doesn't mind helping after the fact with tips on fabric care, etc.
— Desi, G., Huntington Beach, CA
Cantoni sales, service and delivery is flawless. Sara Buehlman is amazing and always available for questions. It is always a pleasure to do business with Cantoni and Cantoni products are all well-made, beautiful, and timeless.
— Veronica Brooks, Huntington Beach, CA
"One of Sarah's key capabilities is that she is always prompt, 100% accurate, and a totally reliable professional. We will continue as a Cantoni client and will always seek out Sarah.
— John S., Laguna Beach, CA
Sarah understood the aesthetics of our customer and crafted a space plan along with furniture and accessories that showcased and elevated our unique rental offering.
— Carroll Whaler, H.G. Fenton Company
"Sarah is both naturally pleasant and very professional. She knows your inventory and can quickly present items that might satisfy the prospective client.
— John S., Laguna Beach, CA
My husband and I have been looking for furniture that would be aesthetically pleasing for our front room, as well as comfortable for both of us. We went in and met with Sarah and were able to find furniture we both agreed on with her help. People who come over always comment on how great it looks. Thank you so much Sarah!
— Heather D., Goleta, CA
Sarah did an amazing job furnishing our home with pieces I know we will love for a lifetime. She created the contemporary space we had always wanted. We're so thankful for Sarah's expertise and now, consider her a wonderful friend.
— Lisa McElroy, Orange County
Sarah was fantastic! The ordering was great. I really appreciate everything she did.
— Shannon Niland, Newport Beach
"Clearly your store has the best selections of items for our project. And Sarah was head and shoulders superior to the representatives we dealt with at other stores.
— John S., Laguna Beach, CA
Sarah has an amazing personality and is so fun to be around. My husband and I have very different design styles, and she really worked with us to meld them together. She's amazing with color and space. We love our home and couldn't be happier.
— S. Taylor, Monarch Beach